Audio & Visual, Speakers, Subwoofers
Klipsch KW-120 Thx Pcs Subwoofer without Amplifier
Professional-grade THX home theater sound
How sturdy is your home's foundation? Well you'd better check it twice before you fire up this dynamic duo. That's because Klipsch designed the KW-120-THX subwoofer and matching KA-1000-THX amplifier to deliver intense levels of movie theater bass that'll rattle your floorboards. This two-piece Klipsch system has more than enough output to rock most rooms. But if your home theater is extra-large, the amp is ready to power a second KW-120-THX sub. A pair of these beasts will satisfy your cravings for even more bass, and meet the stringent requirements for THX Ultra2 certification.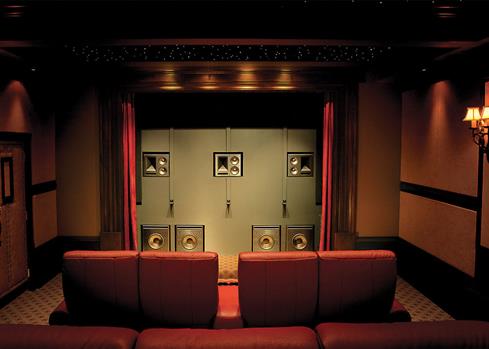 Meet the new boss
The KW-120-THX subwoofer is 80 pounds of pure, unadulterated bass thunder. Built around a 12″ cast-frame, long-throw driver with a massive 15-pound magnet structure, this sub can deliver staggering output without breakup or distortion.Klipsch's ultra-light yet rigid Cerametalic™ woofer cone material helps keep the bass tight and accurate. The sub also features a professional-grade NL2 SpeakOn™ input for a secure amplifier connection, and includes a 20-foot THX Ultra certified speaker cable with NL2 SpeakOn connectors.
To ensure years of top-notch performance, Klipsch builds their THX certified speakers to the highest standards. The sub's front-ported enclosure features the same interlocking panel construction found in their professional speakers for maximum structural integrity and strength. Premium-quality internal wiring is used for superior signal transfer and clarity. And Klipsch finishes off the KW-120-THX with a beautiful and durable fascia of black brushed aluminum.
Clean power for smooth bass
This full-featured Class D amp provides 500 watts of clean power for high-impact, low-distortion bass and is capable of delivering 1000 watts into a 4 ohm load for driving two high-performance subs. It also includes a built-in, defeatable low-pass crossover and level control, boundary-gain compensation switch, continuously variable phase control, and an auto power function for exceptional flexibility. Finished in black with a machined aluminum front panel and knobs, the amp's standard chassis width and handsome appearance allow it to fit in easily with your other components. Or you can hide it away in a cabinet to reduce clutter.
Based on 0 reviews
Only logged in customers who have purchased this product may leave a review.